Welcome to From The Heart,
We are a real full service florist located in Bayboro, North Carolina. Come on by the shop and see all the wonderful gifts, home decor items and gorgeous floral arrangements. At From The Heart we love to provide the perfect arrangement to fit any occasion. Our staff takes great care to ensure that your flowers are fresh and delivered on time. As a full service florist we carry both fresh and silk flowers in a large variety of arrangements. Whether you prefer wreaths, baskets full of flowers, the traditional vase floral arrangements, or even mason jar arrangements we have you covered. Browse our Popular Arrangements page to see our current selection of popular floral designs.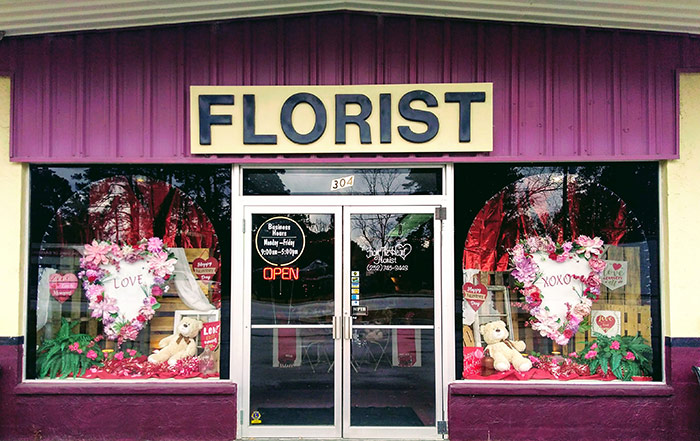 Our Approach
We Deliver "From The Heart" daily to all of Pamlico County! Also serving parts of Aurora and New Bern, including New Bern Funeral Homes and Hospital.
We offer fresh floral arrangements for any occasion, silks,  plants, balloons, stuffed animals, weddings, sympathy designs, fruit baskets (24 hr notice), home decor, unique gift items and much more!
We also offer free delivery to Daniels Sadler Funeral Home (formerly Bryant), Alliance.
Our purpose is to provide you with beautiful flowers during happy times and not so happy times. Every order is done with love and from the heart!  We will do our best to serve your floral needs what ever the occasion!
Our Story
From The Heart florist opened their doors in the spring of 1999 at 618 Main Street, Bayboro and relocated in July 2016 to 304 Main Street, Bayboro. Family owned and operated by Owner Carissa Sanders, a Pamlico County Native.
Let us help you with all your floral needs…
Give us a call at 252-745-3443 to place an order, or stop by and see all the wonderful arrangements and gifts.
Hours: Monday – Friday 9:00 am to 5:00 pm, Closed Saturdays and Sundays except for Funeral work and weddings.
When ordering around the busy holiday seasons please call us to place your orders several days in advance to assure your delivery is on time!
Closed on major holidays- Thanksgiving, Christmas Day, New Years Day, Easter, 4th of July, Labor/Memorial Days.